AI Will 'Reshape Not Replace' Radiology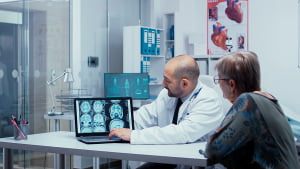 Artificial intelligence (AI) has the potential to bring many benefits to the medical field, and certainly in the area of radiology this is the case.
The World Economic Forum (WEF) recently explained how AI technology will reshape the field of radiology, stressing that radiologists will continue to be vital healthcare professionals in the future but that their roles and how they work will change.
Firstly, the organisation stressed that, while AI is able to identify certain conditions from medical images, it is far from able to carry out the same complex assessments that a radiologist performs.
What the AI technology can do, however, is remove some of the more mundane tasks from a radiologist's role, as well as help speed up the diagnostic process by identifying common conditions.
Secondly, AI will be vital to helping radiologists the world over "muscle through the bottleneck forming" as a result of the Covid-19 pandemic. The publication noted that the technology will "play a central role in creating the efficiency needed to tackle this challenge".
According to the WEF, one of the most exciting developments expected as a result of the introduction of AI in radiology is a move from active to proactive detection of medical conditions.
"AI will empower radiologists to discover additional conditions that were previously undiagnosed or even unknown to the patient," the publication asserted. Early detection of a range of conditions could prove life-changing for many patients.
This technology could also be an important tool to help prevent burnout among radiologists, an article for Radiology Business recently suggested.
It stressed that radiologists, particularly in the field of breast imaging, need to have the right support to enable them to manage their stress levels and work at their best, and in many cases this includes technology such as AI.
If you're looking for new medical imaging systems in the UK, get in touch with us today to find out more about how we can help.
/wp-content/themes/enfold-child/cimar-logo-simple.svg
0
0
Oliver Scott
/wp-content/themes/enfold-child/cimar-logo-simple.svg
Oliver Scott
2020-10-30 12:44:34
2020-10-30 12:44:34
AI Will 'Reshape Not Replace' Radiology