Covid Scan Helps Save Breast Cancer Sufferer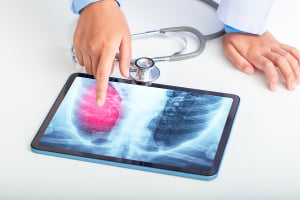 Scans can have all kinds of medical benefits in diagnostics – but sometimes these can be unexpected.
This was certainly the case when it came to the medical imaging used on Jan Dea, a retired nurse, in 2020.
She has revealed how she was scanned after being admitted to hospital after she caught Covid during the second wave in autumn 2020, with CT scans of her lungs carried out to check if she had any blood clots showing a breast tumour.
The 61-year-old had undergone regular mammograms, but the tumour had not been detected as these do not work as well on patients with denser tissue.
Due to her diagnosis, she was able to undergo life-saving treatment to remove the cancer and is now in remission.
Explaining how she had been taken for a scan and had been injected with a special dye to check for blood clots, Ms Dea said: "Next day the consultant came to see me. She said whilst there were no blood clots, but when they used the contrast dye, they found a mass in my right breast."
She had to wait until she had fought off Covid before she could go for a biopsy, which confirmed the cancer. "I was told if I hadn't been admitted with Covid, by the time I'd have felt it, it would have been too advanced," she noted, with consultant Mr Mohamed Shaaban telling her: "Covid saved your life".
Elanie Sturtevant, policy manager at Breast Cancer Now, said all women should continue having mammograms, but added: "Research is looking at how the NHS breast screening programme could better serve the needs of women with dense breasts."
The diagnosis received by Ms Dea was in contrast with the outcomes some suffered as a result of the pandemic.
According to Cancer Research UK, the year between March 2020 and March 2021 saw a 42 per cent fall in the number of patients starting cancer treatment in response to screenings, compared with the previous 12 months.
If you need medical imaging systems in the UK, contact us today.
/wp-content/themes/enfold-child/cimar-logo-simple.svg
0
0
AdRank One
/wp-content/themes/enfold-child/cimar-logo-simple.svg
AdRank One
2022-09-11 11:56:05
2022-09-27 11:58:18
Covid Scan Helps Save Breast Cancer Sufferer