Genomics England Uses Medical Imaging For Cancer Research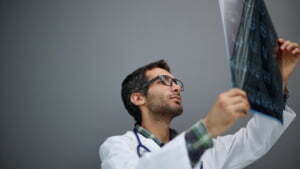 Genomics England has revealed it will enhance its cancer research programme by accessing a medical image storage system.
The organisation, which looks at genetics to find causes of diseases and create new treatments, will use the technology in conjunction with NHS data for its multimodal cancer research platform, Digital Health reported. 
Director of clinical data and imagine and Caldicott Guardian for Genomics England Dr Prabhu Arumugam said: "The imaging system is already a very recognisable interface in NHS clinical settings, but we are using it in new ways."
It was added: "It will help us to harness imaging that we can then match to our genomic data, whilst de-identifying data to ensure confidentiality."
It will transport images from NHS trusts that are participating in the programme, enabling Genomics England to find patterns in genome sequencing, pathology and radiology data. 
This will provide a better understanding of cancers, which could help with the development of treatments. It could also lead to the creation of cancer-targeting artificial intelligence (AI) in the future. 
Dr Arumugam stated the cloud-based research platform will enable more people, other than bioinformaticians, to access data regarding genomics, pathology and radiology. 
Around 250,000 pathology images and 200,000 radiology scans from 30 NHS Trusts will be included in the data acquisition. 
After these are matched with genomics information, the researchers will be able to investigate what the markers are for cancer, helping with diagnoses and treatments. 
This comes after Genomics was given £175 million in funding for the research of rare genetic conditions in newborns, which it hopes will lead to earlier detection and quicker access to medical intervention.
/wp-content/themes/enfold-child/cimar-logo-simple.svg
0
0
AdRank One
/wp-content/themes/enfold-child/cimar-logo-simple.svg
AdRank One
2023-03-20 10:49:00
2023-04-19 06:53:42
Genomics England Uses Medical Imaging For Cancer Research