Healthcare Professionals Positive About Telehealth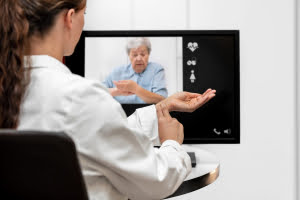 A new survey conducted by the Covid-19 Healthcare Coalition has found that many doctors are enjoying using telehealth technology and want to continue working in this way.
mHealth Intelligence reported on the findings, noting that nearly 70 per cent of the 1,600 healthcare providers surveyed stated that the positive experiences they've had with telehealth during the pandemic has motivated them to use the technology more in the future.
More than three-quarters of respondents said that telehealth had helped them to provide quality care for their patients, while 60 per cent revealed that telehealth had improved the health of their patients.
In addition, 80 per cent of healthcare providers said that telehealth technology had improved the timeliness of care for their patients.
However, the survey also highlighted some challenges facing providers who wish to continue using telehealth in the future. Nearly three-quarters of those questioned believe that there needs to be greater financial investment for technology for providers.
Over 64 per cent also pointed out that access to technology, as well as broadband availability, was one of the biggest barriers for more patients being confident in telehealth.
Commenting on the findings, Ann Mond Johnson, ATA CEO, said: "Covid-19 has allowed telehealth to prove its value as a safe, effective and necessary care delivery option that can provide quality care to patients when and where they need it."
This isn't the first time that the benefits of telehealth have been highlighted. Earlier this year, St Mary's Hospital in London ran a four-week trial programme where it recruited a radiologist with 17 years of experience who lived in Sydney. During the trial, the radiologist interpreted scans during overnight hours in the UK.
Virtual reporting productivity increased by 140 per cent during the four weeks of the trial scheme.
Interested in learning more about cloud healthcare imaging solutions? Get in touch with us today.
/wp-content/themes/enfold-child/cimar-logo-simple.svg
0
0
Oliver Scott
/wp-content/themes/enfold-child/cimar-logo-simple.svg
Oliver Scott
2020-12-05 10:02:21
2020-12-05 10:02:21
Healthcare Professionals Positive About Telehealth