Trial Of New Diagnostic Tools For Prostate Cancer Awarded £1m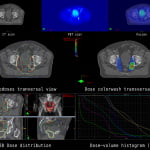 A team of researchers has been awarded £1 million to trial a new MRI scanning method that could significantly produce faster diagnoses of prostate cancer.
According to a press release, the team from Imperial College London and Imperial College Healthcare NHS Trust are studying whether a new type of magnetic resonance imaging (MRI) can detect signs of prostate cancer quicker than current methods.
The researchers will also assess the effectiveness of the new technology to help doctors with targeted biopsies in the detection of prostate cancer compared to traditional biopsies.
If the study, funded by Cancer Research UK, shows the technology is effective, it is hoped it will be more accurate and faster at detecting prostate cancer, and estimate it could potentially save the NHS put o £15 million per year.
There are around 52,300 new cases of prostate cancer diagnosed every year in the UK, and is now the most common form of cancer in men, particularly over-50s with a family history of the disease. Black men are also disproportionally impacted by prostate cancer.
Prostate cancer develops slowly, and typical symptoms, such as blood in urine, do not occur until the disease had developed.
One of the methods used to diagnose prostate cancer is a type of MRI scan called a multi-parametric MRI (mpMRI) scan, which will help medical professionals find any cancer present in the prostate. The procedure involves the injection of a gadolinium contrast medium to help show the body's organs more clearly on the scan.
However, this method involves a risk of anaphylactic shock, and the dye can be deposited in brain tissue. Each scan takes around 40 minutes and outs between £350 and £450.
The new trial will look at the effectiveness of using a Bi-parametric MRI (bpMRI) scan, which is shorter than the usual MRI scan, taking only 15 minutes. It does not require a contrast agent, and costs are around £200.
Previous studies have indicated that bpMRI might be as accurate as mpMRI in detecting prostate cancer.
If you're looking for cloud healthcare imaging solutions, get in touch today.
/wp-content/themes/enfold-child/cimar-logo-simple.svg
0
0
Oliver Scott
/wp-content/themes/enfold-child/cimar-logo-simple.svg
Oliver Scott
2022-02-21 12:28:12
2022-02-21 12:28:12
Trial Of New Diagnostic Tools For Prostate Cancer Awarded £1m