AI-Based Medical Imaging Solutions 'to grow by a third a year'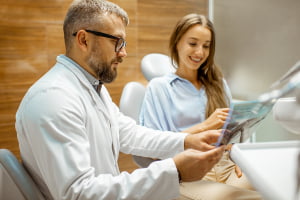 The global market for medical imaging solutions that deploy artificial intelligence (AI) technology has been predicted to expand by almost a third each year over the next six years, according to a new report.
According to Emergen Research, the compound annual growth rate of such technologies will be 31.6 per cent up to 2027, increasing from its 2019 value of $532.9 million to $4,720.6 million.
This high level of growth will not just be down to a fashion for the use of AI as a new technology, but a series of practical utilities that will be valuable in producing greater efficiencies and better medical outcomes, the reports states.
A press release by the research firm stated: "The increasing popularity of the market can be accredited to the numerous benefits of AI solutions such as enhanced efficiency of the pathologists, radiologists, and other diagnosticians."
It added that the use of AI-based imaging solutions would also be popular in the diagnostic imaging solutions, with a particular benefit lying in the enhanced capacity of the technology to identity and track cancers and monitor the progression of tumours.
The report noted that a key factor in the development of then technology has been the development of "advanced algorithms" and the "advent of innovative solutions" from both large and small manufacturers. Another key factor has been the desire of governments to develop more "resilient" public healthcare structures.
Using more digital innovation is something widely believed to be critical to making healthcare more effective, with thinktank Public Policy Projects responding to this month's government white paper on the future of health and social care by arguing it is vital to help improve collaboration, Digital health net reports.
It has argued that more data-based healthcare has "transformational potential" and can help reduce red tape, a key aim of the white paper.
Report author and former chief information officer for NHS England Dr Harpreet Sood said policymakers, health professionals and the public should embrace a vision of "a future in which population health is empowered by innovative technology and data directs how healthcare is delivered in the 21st century".
/wp-content/themes/enfold-child/cimar-logo-simple.svg
0
0
Oliver Scott
/wp-content/themes/enfold-child/cimar-logo-simple.svg
Oliver Scott
2021-02-27 16:50:37
2021-02-27 16:50:37
AI-Based Medical Imaging Solutions 'to grow by a third a year'