Teleradiology Becomes A Tool For Advanced Medicine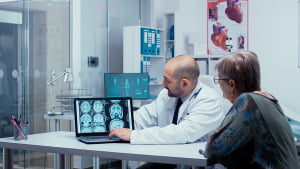 Across Europe and the US, teleradiology has been successfully used as a modern method of diagnosing diseases, and online counselling has become an integral part of the medicine of the future. But what exactly is teleradiology, and why is it needed?
The success of teleradiology, particularly during the pandemic and the need for social distancing and remote working, has meant that medical professionals want the technology to be extended beyond radiology.
Teleradiology is the transmission of X-ray examination results to a radiologist using a computer and IT technologies. The image from an X-ray can be sent to a doctor or specialist who can then help with its reading or making a diagnosis, without needing to be present in the same building.
Radiologists often find it difficult to unequivocally interpret the results of an examination. When looking at an X-ray image, even experienced specialists may overlook a symptom of a serious illness in its early stage. Teleradiology is designed to eliminate areas of concern and improve the treatment and diagnostic process.
Teleradiology is used in the following cases:
remote monitoring of the dynamics of the patient's condition;
urgent examination in case of emergency;
convocation of a council to resolve a complex diagnostic issue;
online training of radiologists;
sending images to medical institutions;
storage of large research archives
Situations where teleradiology is of significant help
Teleradiology has been used for the successful analysis of an MRI image. The doctor remotely examines the patient's images and may prescribe additional studies of the brain.
Experts have stated that the time for making a diagnosis during teleconsultations has decreased. Telemedicine is especially beneficial to remote settlements, where there may be no specialists or the required diagnostic equipment.
The development of telemedicine will help to diagnose and treat patients effectively and promptly. Medical imaging systems can be successfully applied not only in the field of diagnostic radiology but also in dermatology, dentistry, endoscopy, and many other areas of healthcare.
If you are looking for medical image management, talk to us today.
/wp-content/themes/enfold-child/cimar-logo-simple.svg
0
0
Oliver Scott
/wp-content/themes/enfold-child/cimar-logo-simple.svg
Oliver Scott
2021-03-12 17:07:52
2021-03-12 17:07:52
Teleradiology Becomes A Tool For Advanced Medicine