AI Could Detect ICU Covid-19 Patients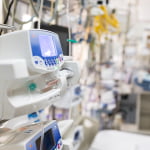 Artificial intelligence (AI) could be used to detect whether patients suffering from Covid-19 are likely to require intensive care unit (ICU) treatment.
Scientists at the University of Waterloo and DarwinAI found AI can look at more than 200 clinical data points, such as blood test results, medical history and vital signs, to determine whether patients should be admitted into ICU or not.
News Medical Life Sciences reported the technology, which was tested at Hospital Sirio-Libanes in Sao Paulo, Brazil, could predict whether ICU admission was necessary with more than 95 per cent accuracy simply by analysing various medical images.
Alexander Wong, professor of Systems Design Engineering and Canada Research and Chair in AI and Medical Imaging at the University of Waterloo, stated this software was not intended to replace doctors but help them make sure patients who require ICU treatment receive it as soon as possible.
"The goal is to help clinicians make faster, more consistent decisions based on past patient cases and outcomes," he said, adding: "It's all about augmenting their expertise to optimize the use of medical resources and individualize patient care."
The technology has been made available to other engineers and scientists to improve on, so it can be utilised globally as a way of detecting Covid-19 and determining how severe the condition is in each patient.
As coronavirus continues to spread across the world, putting increasing pressure on medical resources, any tool that can relieve this and allocate healthcare to those who it need most will certainly be valued.
According to the latest statistics, more than ten million people in the UK have tested positive for Covid-19, with this figure jumping to nearly 270 million across the world.
For more information about medical imaging companies, get in touch today.
/wp-content/themes/enfold-child/cimar-logo-simple.svg
0
0
Oliver Scott
/wp-content/themes/enfold-child/cimar-logo-simple.svg
Oliver Scott
2022-01-19 16:58:00
2022-01-19 16:58:00
AI Could Detect ICU Covid-19 Patients