AI Set For A Larger Role in NHS Imaging Diagnostics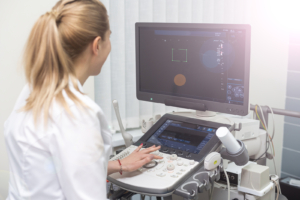 The importance of medical image sharing in helping to provide access to crucial data and help specialists make diagnoses is well known, but it could gain even more significance in an age when the capacity for images to be used effectively in identifying conditions is increasing.
A key factor in enhancing diagnostic capacity is the use of artificial intelligence (AI). While there are ways in which this technology has been seen by some as a threat to humanity, the Department for Health and Social Care has just announced £21 million of ringfenced funding to roll out AI across the NHS.
The announcement listed cancers, strokes and heart conditions as examples of the sort of things AI can help identify.
AI is available in 86 per cent of stroke network settings, but the government is committed to increasing this to 100 per cent by the end of 2023.
Health secretary Steve Barclay said: "AI tools are already making a significant impact across the NHS in diagnosing conditions earlier, meaning people can be treated more quickly."
Adding image-sharing services using facilities like the Cloud can maximise this benefit, by helping get the information from more accurate and speedy diagnoses to those who need it as fast and efficiently as possible. This will enable the right treatment to begin quickly.
A separate announcement will provide a further boost to those who may be suffering from lung cancer, with the full roll-out of a new £270 million targeted lung cancer screening programme being launched.
This will focus on people aged between 55 and 74 with a history of smoking, who may benefit from having the condition spotted at an earlier stage.
It will involve nearly a million scans a year and is expected to provide a potentially life-saving early diagnosis for around 9,000 cancer patients.
The move follows an initial phase in which 76 per cent of the lung cancers detected were at an early stage.
/wp-content/themes/enfold-child/cimar-logo-simple.svg
0
0
AdRank One
/wp-content/themes/enfold-child/cimar-logo-simple.svg
AdRank One
2023-08-05 10:19:55
2023-08-24 10:21:27
AI Set For A Larger Role in NHS Imaging Diagnostics