Can You Be More Productive Working from Home?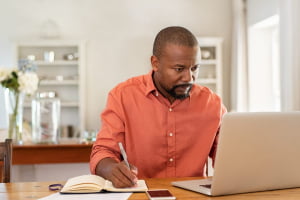 Technology has made it easier than ever for people to work from home, or in fact anywhere. The internet and digital tools allow us to take work home with us, which can be beneficial for some.
Employee Benefits recently shared the findings of a survey by Cleanology, which found that more than one-third of UK workers believe they perform better if they work from home.
What's more, 34 per cent of those questioned said that they'd noticed a rise in presenteeism in the past year, with 64 per cent feeling pressure to go into their workplace if they feel unwell.
In fact, the news provider noted that one of the problems cited by respondents was catching an illness from a colleague. Over half said that they'd caught a cold from a colleague who shouldn't have come into the workplace.
Of course, if you work in healthcare there are certain jobs you can't do from home. But the use of cloud healthcare imaging solutions makes it possible for more health professionals to either work from home some of the time, or to do certain tasks away from the hospital.
Utilising this technology also has other benefits for patients and professionals alike. One of the main advantages is that you can tap into the expertise of people from all over the country.
Being able to easily share medical images and reports can mean that someone with a particular specialism could assist in the care of your patients if it's appropriate.
Healthcare was recently named as one of the sectors that is embracing the cloud, with Solutions Review pointing out all of the ways in which this technology is being introduced to healthcare settings.
Contact Cimar today to learn more about our PACS/RIS connected radiology home reporting solution.
/wp-content/themes/enfold-child/cimar-logo-simple.svg
0
0
Oliver Scott
/wp-content/themes/enfold-child/cimar-logo-simple.svg
Oliver Scott
2019-07-18 14:09:00
2019-07-18 14:09:00
Can You Be More Productive Working from Home?