How Can AI-Powered Ultrasound Detect Heart Disease?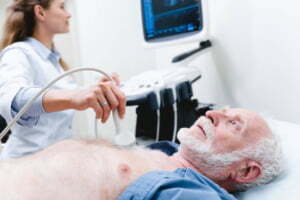 In 2022, the biggest leap forward for medical imaging services was the adoption of artificial intelligence and machine learning to help doctors diagnose diseases in tissue samples and diagnostic scans,
This is why, for example, a system designed to detect different types of pastries is also used to scan for cancer.
However, a team from Rutgers University led by Partho Sengupta MD FACC and Naveena Yanamala PhD discovered a breakthrough in AI-assisted ultrasonic imaging that would enable an AI to detect changes in the function and structure of the heart at a molecular level.
This could be used at a very early stage to detect for signs of heart disease, potentially saving countless lives.
The system works by analysing patterns in echocardiogram imagery to determine at an expert level the types of conditions that lead to heart failure, establishing new biological markers that can help doctors plan appropriate cardiac treatment.
The biomarker can be applied to any current ultrasound device, which includes miniature hand-held ones that can fit in a pocket, and creates what the doctors call an "ultrasonic biopsy".
There have been several similar stories of ultrasound being used in conjunction with AI to help detect heart disease, with one particularly fascinating study detecting weak heart pumps from data recorded by an Apple Watch, a consumer-grade smart device with limited health and fitness tracking.
With diseases like heart failure, lung disease, dementia and cancer, time is a critical factor in determining potential recovery. The longer the disease goes undiagnosed, the more of an effect it can have on people's lives and the lower the chance of a full recovery.
Time is the difference between excising a benign tumour and being unable to operate due to cancerous tissue spreading to a vital organ.
This is a similar case with heart disease, as the sooner it is discovered, the more options are available to doctors.
/wp-content/themes/enfold-child/cimar-logo-simple.svg
0
0
AdRank One
/wp-content/themes/enfold-child/cimar-logo-simple.svg
AdRank One
2022-12-25 10:36:13
2023-01-04 09:40:35
How Can AI-Powered Ultrasound Detect Heart Disease?