3D Tech Used To Treat Cleft Palates In Developing Nations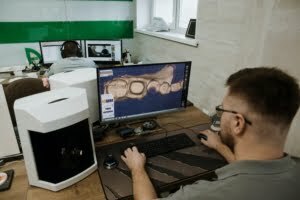 Scientists have worked out how they can use artificial intelligence (AI) to help children in developing countries who have been born with cleft palates. 
Swiss researchers are using a 3D printer to create pre-surgical palate plates for babies in poorer countries, based on smartphone images of their cleft lips and palates, Swiss Info revealed. 
Computer software automatically generates a digital model of the palate, which can then be printed out quickly and easily. 
Andreas Muller, head of the Cleft Lip and Palate Treatment Centre at the University Hospital of Basel, designed the digital process together with scientists at the Department of Computer Science at the federal technology institute ETH Zurich. 
The procedure is currently being tested in India and Poland, and it is hoped it will make treatment more accessible for children in low-income states. 
Muller said: "As health workers, we feel frustrated faces with the fact that such 'luxuries' are unavailable to many families in those countries with scarce healthcare resources, training and a low number of healthcare workers."
In higher-income nations, a team consisting of a paediatric dentist, a surgeon and anaesthesiologist create a plaster mould of the baby's palate after they are born. An individualised plastic plate is then handcrafted by a dental technician before a qualified orthodontist implants this into the baby's mouth and adjusts it regularly over a course of a six to eight months. 
After this, the cleft will have narrowed enough to only require a single surgery to close it. 
This surgery costs up to $3,500 (£2,880) in India, which is unaffordable for millions of people living there. 
If a cleft palate is not repaired, it can cause a number of health issues, including being unable to feed, hearing problems, a higher risk of tooth decay, and unclear speech. 
For medical imaging storage, take a look here. 
/wp-content/themes/enfold-child/cimar-logo-simple.svg
0
0
AdRank One
/wp-content/themes/enfold-child/cimar-logo-simple.svg
AdRank One
2022-12-16 10:31:39
2023-01-04 09:36:06
3D Tech Used To Treat Cleft Palates In Developing Nations