AI Tool Developed For Covid-19 Prognostic Model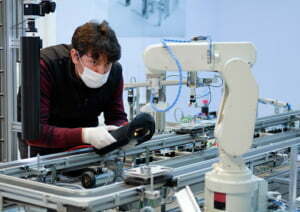 The constantly-adapting nature of Covid-19 made it difficult for medical staff to provide an accurate prognosis for hospitalised patients. However, scientists have now developed an artificial intelligence (AI) device that can offer a framework for continuous monitoring. 
Feinstein Institutes for Medical Research (FIMR) published their study in Nature Communications, having looked at more than 35,000 Covid-19 patients over the last two and a half years. 
Dr Theo Zanos, associate professor at the FIMR and Institute of Bioelectronic Medicine, led the research, which had to include the different changes in variants, waves and outcomes of the virus. 
He said: "Covid-19 was one of the most dynamic diseases we've witnessed in modern history and information about how to care for patients was constantly evolving."
Scientists had to collect enough data to create a tool that accounted for the rapid developments. The auto-updating clinical device has been designed to assist clinicians in making decisions for patient care. 
While previous models have failed by not being able to consider fluctuations in patients' characteristics and outcomes, the new model updates automatically when it detects a change in performance. 
President and chief executive officer of the FIMR Kevin J Tracey added the study was able to analyse data, and use modern technology to develop the tool and provide insights into the virus. 
It works by focusing on five early patient data points – age, serum urea nitrogen, lactate, serum albumin and red cell distribution width. By doing this, it was able to remain accurate across four waves and different variants. 
"Dr Zanos' strategy provides a new model to study Covid-19 as a guide to clinical decision-making and better outcomes," Mr Tracey added. 
For more information about cloud PACS system in healthcare, call us today.
/wp-content/themes/enfold-child/cimar-logo-simple.svg
0
0
AdRank One
/wp-content/themes/enfold-child/cimar-logo-simple.svg
AdRank One
2022-12-05 10:27:50
2023-01-04 09:31:34
AI Tool Developed For Covid-19 Prognostic Model