Medical Imaging 'Set To Be Boosted By Machine Learning'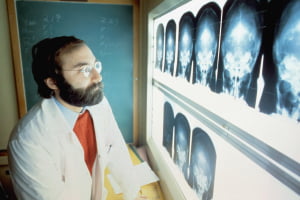 The use of machine learning, or artificial intelligence (AI) is set to provide a major advance in the effective deployment of medical imaging for diagnostic purposes, according to a speaker at a recent meeting of the American Physics Society (APS).
Reporting on the event, Physics World noted how this issue was the focus of the event-opening remarks by Alison Deatsch from the University of Wisconsin, Madison. She said AI could be particularly important in spotting brain diseases earlier.
"Brain disorders and neurodegenerative disease are some of the most costly diseases, both in terms of human suffering and economic costs," she commented, stating that this is due to a lack of reliable diagnostic techniques, something the use of AI in scanning could change.
Her argument was that while all sorts of scanning technology is available, the analysis of the medical images that emerge from them is seldom as good as it needs to be. "This is due in part to the time it takes to manually curate or quantify data and some inherent uncertainty," she remarked.
Ms Deatsch argued that the benefit of AI would be to build up a bigger and more detailed picture of patterns and use more information to enable a more extensive analysis to take place. This, she said, would mean it would be easier to spot the emergence of diseases – with this already shown to be an effective means of identifying Alzheimer's disease at an early stage.
It is not just neurological conditions that might be more effectively analysed using AI.
The Guardian recently reported that some NHS hospitals are starting to use a screening algorithm when scanning the placenta during pregnancy.
It works by using AI-based assessments of the volume of the placenta and the supply of blood to it to estimate the risk of pre-eclampsia in later pregnancy.
The technology is being developed by Perspectum Ltd, a company that has developed out of research at Oxford University.
If you need medical imaging systems in the UK, contact us today.
/wp-content/themes/enfold-child/cimar-logo-simple.svg
0
0
AdRank One
/wp-content/themes/enfold-child/cimar-logo-simple.svg
AdRank One
2022-04-15 13:53:41
2022-08-15 13:57:09
Medical Imaging 'Set To Be Boosted By Machine Learning'