Could AI Speed Up Cancer Diagnoses?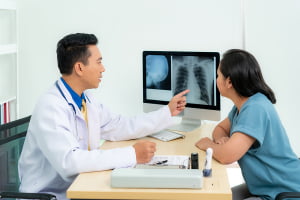 Somerset NHS Foundation Trust is hoping that by using artificial intelligence (AI), it can reduce the time between cancer screenings and, subsequently, diagnose patients at a faster rate.
The AI technology works by triaging x-rays using a red dot algorithm, and highlighting which ones need urgent attention from a radiologist. Consequently, it has reduced the time between chest x-rays and CT scans from seven to an average of 2.8 days.
Consultant radiologist at the trust Dr Paul Burn told Digital Health: "We embarked on a bottom-up initiative to test the algorithm, with the aim of helping us improve our referral times."
The technology was able to attain a negative predictive value of 97.7 per cent, as radiologists disagreed with just 13 out of 562 of the cases used in the test.
Somerset NHS Foundation Trust was able to go ahead with the study after receiving funding from Somerset, Wiltshire Avon and Gloucestershire Cancer Alliance (SWAG).
Patricia McLarnon, manager of SWAG, told the publication the organisation "embraces a positive culture towards innovation" when it comes to supporting cancer recovery.
The study has allowed the NHS trust, along with Dr Burn, to build up substantial evidence to develop the innovation more, with Ms McLarnon adding this will help it become "recognised as a mechanism to improve outcomes for cancer patients".
Red dot algorithm works by classifying a CXR and localising its findings throughout heatmaps. It is based on deep learning models, which are extremely effective at image processing.
The AI was created using more than 30,000 CXRs and the annotations from radiologists that correspond to each scan. Therefore, it is very thorough and reliable.
For more information about medical imaging systems in the UK, click here.
/wp-content/themes/enfold-child/cimar-logo-simple.svg
0
0
AdRank One
/wp-content/themes/enfold-child/cimar-logo-simple.svg
AdRank One
2022-07-15 14:52:44
2022-08-30 14:55:32
Could AI Speed Up Cancer Diagnoses?