Royal Free Hospital To Study AI Breast Cancer Screening Tool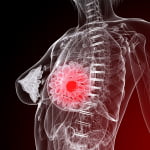 A new AI tool designed to help screening for breast cancer is to be studied by the Royal Free Hospital in London.
The hospital will carry out the study as a retrospective trial, with the new AI application, known as Mia, being designed to get better at detecting anomalies in mammograms as it proceeds. All the mammograms it looks at will be anonymised older ones that have already been through assessment and diagnosis. The new device has been designed by Kheiron Medical Technologies.
If it proves effective, a key benefit of the technology will be to help spread resources. At present every mammogram is assessed by two members of staff, not one. While this extra set of eyes helps improve detection rates, it is also more human resource intensive and can lead to delays, something that could be reduced if Mia proves effective.
Because the mammograms in the trial have all been through the diagnostic process, no patient will rely on Mia at this stage, and at the end of the trail the Mia results for each screening will be compared with the radiographer's verdict to test for accuracy.
Clinical site lead Dr William Teh said the study offers a chance to "analyse and assess the differences between human and machine made decisions and to learn whether AI has the potential power to positively transform clinical practice in real-world screening populations".
The development is not the only research being undertaken in an attempt to improve the success of NHS screening services in detecting breast cancer.
A new method of tailored personal screening is being trialled across six countries in Europe, based in the initial phase on saliva samples that are tested for DNA to identify patients with higher or lower genetic risks of breast cancer. From this, screening can be tailored according to personal need.
The Royston Crow reported that 10,000 UK volunteers who have never had breast cancer in the past are needed for the British leg of the trail at Addenbrooke's Hospital in Cambridge.
If you need medical imaging systems in the UK, contact us today.
/wp-content/themes/enfold-child/cimar-logo-simple.svg
0
0
Oliver Scott
/wp-content/themes/enfold-child/cimar-logo-simple.svg
Oliver Scott
2021-12-02 12:51:54
2021-12-02 12:51:54
Royal Free Hospital To Study AI Breast Cancer Screening Tool