X-Rays Enhanced By New Technique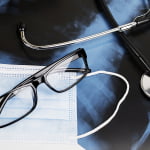 The brightest ever X-rays, produced in 3D images, have been hailed as a medical breakthrough in diagnostic scanning.
The technique, known as Hierarchical Phase-Contrast Tomography (HiP-CT), has been developed by the European Synchrotron Research Facility (ESRF). This involved giving a particle accelerator what has been labelled an 'Extremely Brilliant Source upgrade' (ESB).
It has been developed to the resolution of one micron, 100 times the resolution of a traditional CT scan, while the X-ray that results from the new technique is 100 billion times brighter than a traditional X-ray.
The technique has been demonstrated in the scanning of a Covid patient's lung, helping establish the extent of the damage caused by the disease.
Lead scientist at ESRF Paul Tafforeau said the idea of developing the technique further came at the outbreak of the pandemic, using the increased sensitivity of the new Extremely Brilliant Source at the ESRF, ESRF-EBS".
He added: "This allows us to see in 3D the incredibly small vessels within a complete human organ, enabling us to distinguish in 3D a blood vessel from the surrounding tissue."
In some cases, even specific cells can be examined using the technique, because its resolution is so high, Mr Tafforeau concluded.
The new technique will also make further medical research possible. A team from University College London is planning to set up a new project called the Human Organ Atlas, aimed at filling in gaps in the understanding of human anatomy.
Traditional X-rays already have an important role in diagnosing the effects of Covid. Last month, the Deer Valley Medical Center in the US published data showing that the level of lung damage among patients who had contracted the virus after being vaccinated was far less severe than for those who had not been vaccinated.
Chief of staff at the centre Dr Sam Durrani said the X-rays revealed most of the lungs of vaccinated patients showed up black, meaning there was more oxygen circulating in them.
If you need medical imaging systems in the UK, contact us today.
/wp-content/themes/enfold-child/cimar-logo-simple.svg
0
0
Oliver Scott
/wp-content/themes/enfold-child/cimar-logo-simple.svg
Oliver Scott
2021-12-10 10:54:28
2021-12-10 10:54:28
X-Rays Enhanced By New Technique