Why Radiology Is Vital In The Fight Against COVID-19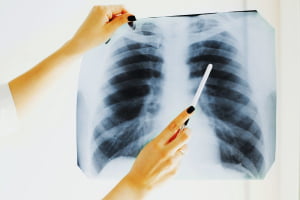 Medical professionals and epidemiologists are constantly learning new things about COVID-19 and better understanding the virus behind the global pandemic. An article for Health Imaging recently explained why radiologists are on the frontline in the fight against COVID-19.
It explained that chest x-rays are an important examination stage for those with the disease. It cited a piece published in the British Medical Journal (BMJ) and written by four UK-based chest radiologists. They asserted that "clinical radiologists [are] emerging as one of the key parts of frontline triage".
The article also noted that x-rays are helping clinicians to determine whether patients have a lung infection and therefore whether that is likely to be COVID-19.
However, they stressed that ideally only patients who have been tested for the virus should be sent for a scan to ensure that the equipment is deep cleaned appropriately after each use and the infection isn't unwittingly spread.
The radiologists also pointed out that this is putting pressure on an already stretched system in the UK, and that 20 per cent of the NHS workforce are expected to need to self isolate at some point during the pandemic.
Remote radiology reporting could therefore help enable radiologists to work from home where appropriate and enable them to aid colleagues by diagnosing scans remotely.
Digital technology is already being utilised in the fight against COVID-19, with AuntMinnieEurope sharing an article from Clinical Radiology last month, which explained that the British Society of Thoracic Imaging has established a new COVID-19 imaging repository and database.
It's hoped that the system will result in less diagnostic variation and better patient care.
/wp-content/themes/enfold-child/cimar-logo-simple.svg
0
0
Oliver Scott
/wp-content/themes/enfold-child/cimar-logo-simple.svg
Oliver Scott
2020-04-10 09:13:00
2020-04-10 09:13:00
Why Radiology Is Vital In The Fight Against COVID-19