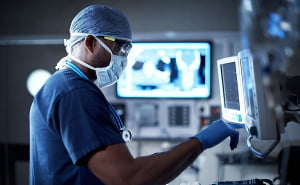 The way that the NHS has responded to the coronavirus crisis could pave the way for a rise in the adoption of telemedicine, with technology being used increasingly to help healthcare professionals manage the pandemic.
This is the assertion of Highlands and Islands Conservative MSP Jamie Halcro Johnston who, according to the Northern Scot, believes that a legacy of the crisis could be a "greater consideration and use of telehealth to address challenges in delivering healthcare in remote and rural areas".
Speaking at a health debate on June 2nd at Holyrood, Mr Halcro Johnston explained that situations such as the one we find ourselves in often results in a very rapid uptick in the development and adoption of innovative technologies and, once the crisis comes to an end, it is often the case that these developments are accepted as the new way of operating.
He discussed local services being delivered remotely, without healthcare professionals meeting their patients in person, which further emphasises the need for GPs and others in the sector to make use of technology in order to conduct consultations over the internet.
Recent research from Siemens Financial Services revealed that telemedicine is, in fact, one of the main areas for investment in the UK healthcare sector in order to drive a successful digital transformation.
High capital investment is required, however, with organisations in the sector having to spend £1.4 billion in the next five years. Other areas of investment include new generation diagnostics and smart digitised hospitals.
For advice relating to cloud medical image storage, get in touch with CIMAR today.