5 Reasons For CD Elimination In Healthcare Settings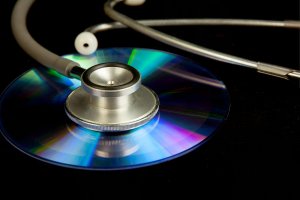 Healthcare professionals looking for new ways in which to revolutionise the way they work could find that CD elimination is the way forward… and there are all sorts of benefits to doing this, which you're sure to find as soon as you decide to stop using CDs for patient care.
This kind of technology is dying out and you'll likely find it hard to buy a new computer that even has an optical disk drive these days. There's not much need for CDs in daily life any more but they're still used in the NHS for patient health records… which certainly seems strange when you think they're being phased out everywhere else.
It's incredibly easy to lose CDs – they can be forgotten about at home, lost when relocating or scratched by any pets you have or mischievous children getting into places that they shouldn't.
It's also worth remembering that CD use can create an awful lot more work when healthcare professionals' workloads are already very hectic.
Even now, some facilities require lots of paperwork to be filled out by patients, who will then have to drive to pick up their CDs and medical imaging records… a nuisance for them and also potentially impossible for anyone with a serious injury or physical condition.
Delays arising as a result of CD use can also lead to patient dissatisfaction. A recent survey carried out by Ambra Health found that just 17 per cent of patients said they were able to access or share medical images easily online – but 80 per cent said they would like to have access to images as well as their test results.
So as you can see, it is certainly worth contacting Cimar to learn how you can eliminate CD's altogether, making sharing with referrers, clinicians and patients more efficient and secure than ever before.
Ask us about how we can image enable your EHR or provide you with your very own white labelled patient portal to drive engagement and satisfaction.
/wp-content/themes/enfold-child/cimar-logo-simple.svg
0
0
Oliver Scott
/wp-content/themes/enfold-child/cimar-logo-simple.svg
Oliver Scott
2019-05-22 11:55:56
2019-05-22 11:55:56
5 Reasons For CD Elimination In Healthcare Settings