Scientists 'Train' AI To Assess Cancer In Revolutionary System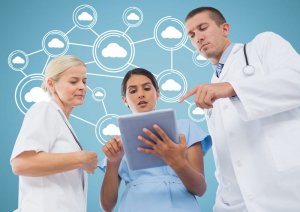 Artificial Intelligence (AI) is being used to assess mesothelioma patients, which is also known as 'asbestos cancer', is a new system that could revolutionise how patients are cared for in Scotland, which has the highest incidences of mesothelioma in the world.
BBC News reports that Canon Medical Research Europe, a Scotland-based firm that specialises in next-generation medical imaging software, and the University of Glasgow are due to publish clinical findings from a study evaluating a new, world-leading AI-driven cancer assessment tool, developed as part of the Cancer Innovation Challenge.
The study team, which is made up of AI and data scientists at Canon Medical and University of Glasgow clinical researchers at the Queen Elizabeth University Hospital, and NHS Greater Glasgow and Clyde Research and Innovation staff, created a prototype AI system able to automatically find and measure mesothelioma on CT scans.
The AI was trained by the team, who showed it over 100 CT scans, on which an expert clinician had marked the tumour to show the AI what to look for. Once trained, the AI was then shown new, unmarked scans, and was able to find and measure the tumour with extreme accuracy without any human intervention.
Mesothelioma was the intentional focus given its prevalence in Scotland and because it is one of the most difficult to measure cancers on CT scans.
Keith Goatman, the principal scientist at Canon Medical, said: "The funding and support from the Cancer Innovation Challenge has been vital in bringing this idea to life, and we are looking forward to continuing our work with the excellent team at the University of Glasgow in the years to come.
"This work is a strong first step towards real change in the treatment of all cancers – not just mesothelioma."
If you need cloud healthcare imaging solutions, talk to our team today.
/wp-content/themes/enfold-child/cimar-logo-simple.svg
0
0
Oliver Scott
/wp-content/themes/enfold-child/cimar-logo-simple.svg
Oliver Scott
2021-04-23 10:05:00
2021-04-23 10:05:00
Scientists 'Train' AI To Assess Cancer In Revolutionary System